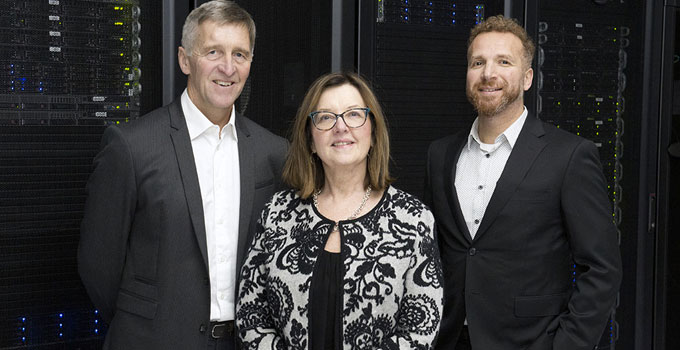 Over the past 10 years, more than 300,000 Canadians have volunteered to be part of the Canadian Partnership for Tomorrow Project (CPTP), a research platform that tracks the development of cancers and chronic diseases in the population over several decades to better understand risk factors.
Researchers from across Canada and the University of Toronto published a manuscript in the Canadian Medical Association Journal last week, marking a culmination of effort from hundreds of Canadian researchers to build the project with support from multiple national and provincial funders.
"This project is a living population observatory that enables researchers – in Canada and across the globe – to tap into a rich population health database of genetic and environmental factors associated with chronic disease development," said John McLaughlin, CPTP's executive director, co-author of the manuscript, and professor of epidemiology at the Dalla Lana School of Public Health.
The paper describes how 307,017 participants aged 30 to 74 were recruited with informed consent from the general population within eight Canadian provinces. Most participants provided a blood or other type of sample and about a third completed a physical assessment. All the data in the CPTP are de-identified, but it will provide researchers with a platform for assessing the effects of genetics, behaviour, environment and societal factors on health.
"The CMAJ paper points researchers to this national scientific asset, and how CPTP can be used," said Philip Awadalla, co-author of the paper and national scientific director of CPTP.
"We're at the beginning of a new phase for the CPTP as we move from building the platform to creating new evidence that is relevant to Canadians," said Awadalla, who is also a professor of population and medical genetics in the Faculty of Medicine's department of molecular genetics and director of computational biology and senior investigator at the Ontario Institute for Cancer Research.
Earlier this spring, U of T was named CPTP's national co-ordinating site, led by Awadalla and McLaughlin in partnership with the Ontario Institute for Cancer Research. Recognized as Canada's premier health research initiative, the CPTP research platform is unlocking the answers to why some people develop cancer and chronic diseases while others do not.
"The complexity of cancer is such that massive data sets are required to identify common risk factors on a national scale, which may open the door to new pre-diagnostic techniques and prevention strategies," said Dr. Stephen Robbins, scientific director of the CIHR Institute of Cancer Research..
On the CPTP research platform, any researcher can submit a proposal to access portions of the data. More than 80 scientific programs have already begun research with CPTP, and received independent funding from national and international funders. A study published earlier this year in Nature Communications showed how environmental exposures interact with our genomes to impact health. The CPTP scientists involved in the study will also use the cohort to answer questions about why cancer rates vary across the country (B.C. has much lower rates of certain types of cancers compared to Atlantic Canada).
Awadalla and colleagues have received funding from the Canadian Institutes of Health Research to examine metabolic syndrome, which includes a range of conditions like high blood pressure, Type 2 diabetes, glucose intolerance and cardiovascular disease. The study seeks to understand how environmental factors, including air pollution and green space, interact with genetics to impact rates of metabolic disease nationally.
Funding for this program is a partnership across many national and provincial organizations including: the Canadian Partnership Against Cancer, Heart and Stroke Canada, Genome Quebec, Ministère de l'Économie, de la Science et de l'Innovation, Ontario Institute for Cancer Research, Cancer Care Ontario, Public Health Ontario, Alberta Health Services and Alberta Innovation.
Read here for more information about the CPTP and its regional partners (CARTaGENE, Ontario Health Study, BC Generations, Atlantic Path, and the Alberta Tomorrow Project) and details about accessing the data.