OICR-supported researchers demonstrate new drug may eliminate triple negative breast cancer cells in certain patients, discover a new method to identify which patients will benefit
Adapted from UHN's Media Release.
Triple negative breast cancer (TNBC) is a highly aggressive subtype of breast cancer that often spreads to other organs and accounts for one in four breast cancer deaths. OICR-supported researchers at the University Health Network's Princess Margaret Cancer Centre are zeroing in on the molecular mechanisms that fuel this deadly cancer's runaway growth to develop more effective treatments for this disease.
In their study, recently published in Nature Communications, they found a promising approach that could potentially identify the patients who could benefit from a more precise, targeted therapy for TNBC.
"This disease has no precision medicine, so patients are treated with chemotherapy because we don't have a defined therapeutic target," says co-lead of the study Dr. Mathieu Lupien, Senior Scientist at the Princess Margaret Cancer Centre and OICR Investigator. "Initially, it works for some patients, but close to a quarter of patients recur within five years from diagnosis, and many develop chemotherapy-resistant tumours."
"These savage statistics mean that we must improve our understanding of the molecular basis for this cancer's development to discover effective, precise targets for drugs, and a companion test to identify which patients are most likely to benefit the most from such a therapy."
The study investigated how TNBC cells are dependent on a specific protein called GLUT1 and its associated molecular pathways. Prior studies suggested that TNBC cells were dependent on GLUT1, but this study is the first to demonstrate that blocking GLUT1 function may be an effective therapeutic strategy for certain patients with TNBC.
Using a collection of cell lines, the researchers found that blocking this pathway with a drug-like chemical compound "starved" the cancer cells, but only in a subset of TNBC patient samples. The group investigated further and found a common trait between the cell lines that were sensitive to the drug – they had high levels of a protein called RB1. This indicates that patients with TNBC and high levels of RB1 may, one day, benefit from this drug.
"Having access to diverse cell models of triple-negative breast cancer allows us to distinguish where the potential drug will work, and where it won't," says Lupien. "Without this broad spectrum of samples, we might have missed the subset of triple-negative breast cancers that respond to our compound."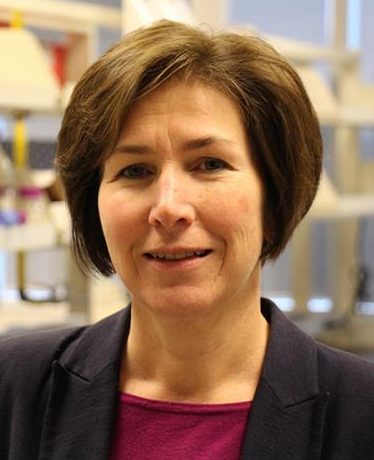 Collectively, this study suggests that clinical evaluation of targeting GLUT1 in certain patients with TNBC is warranted.
"The more we understand about the molecular complexity of cancer cells, the more we can target with precision," says co-lead of the study Dr. Cheryl Arrowsmith, Chief Scientist for the Structural Genomics Consortium Toronto laboratories and Professor of Medical Biophysics at the University of Toronto. "And the more we can build up a pharmacy of cancer drugs matched to specific changes in the cancer cell, the greater the chance of a cure."
Read UHN's Media Release.