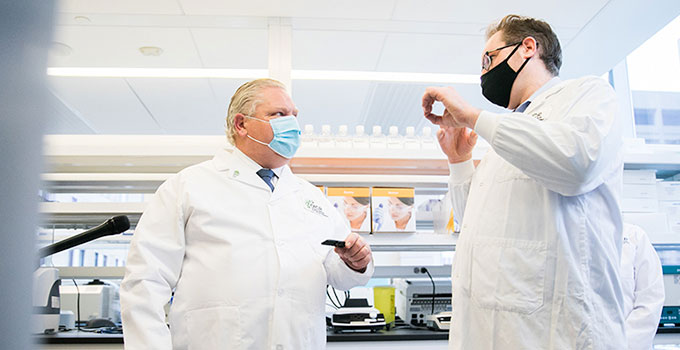 On February 23, Ontario Premier Doug Ford visited MaRS and included a stop at OICR to learn about how the Institute is using its expertise in genomics and other areas to contribute to COVID-19 research. Premier Ford was accompanied by MPPs Donna Skelly and Nina Tangri, who are Parliamentary Assistants to the Minister of Economic Development, Job Creation and Trade, Vic Fedeli.
During the visit Premier Ford met with members of OICR and FACIT leadership and was then given a demonstration of some of OICR's COVID-19 research by Dr. Trevor Pugh, Director of the OICR-Princess Margaret Cancer Centre Joint Genomics Program.
---
---
Premier Ford also spoke to reporters during his visit and conveyed his thanks and support for OICR's research into both cancer and COVID-19. "These are the areas that Ontario wants to invest in to lead the world in research, not only in COVID but in cancer and other diseases…We are very grateful for all the folks here."
Read more about OICR contributions to COVID-19 research.
---
This morning, I joined two of our all-star MPPs @ninatangri & @SkellyHamilton to check out the innovative work being done by @OICR_news at @MaRSDD.

We're working hard to ensure Ontario continues to have one of the largest #LifeSciences sectors anywhere in the world. #OntarioMade pic.twitter.com/DRGHqqzcpR

— Doug Ford (@fordnation) February 23, 2021
---
Excellent work being done by this sector. Very innovative and providing great solutions https://t.co/495GMU7S3Z

— Nina Tangri (@ninatangri) February 23, 2021
---
This morning I was pleased to join @fordnation and @ninatangri on a tour of the Ontario Institute for Cancer Research. pic.twitter.com/cNvwwOLw3r

— Donna Skelly (@SkellyHamilton) February 23, 2021
---