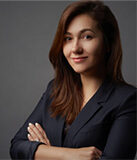 Contact
Dr. Anastasia Tikhonova
Early-Career Investigator
Early-Career Investigator
Every functional process in our body is mediated by highly orchestrated cellular crosstalk. The bone marrow microenvironment maintains all hematopoietic cells, including stem cells (HSCs) and progenitors, though cell-cell interactions and secretion of soluble factors. The explicit goal of Dr. Anastasia Tikhonova's research program is to delineate the mechanisms that underlie dysregulated HSC-niche crosstalk and target it to halt aberrant hematopoiesis.
In addition to hematopoietic malignancies, many other tumor types including prostate, breast and lung metastasize to and seek refuge from chemotherapy in the bone. Despite considerable advances in therapies targeting these cancers, once tumor cells have metastasized to the bone, they are generally untreatable. Dr. Tikhonova's goal is to define molecular mechanisms driving bone marrow involvement in malignant processes. Understanding the cell-cell interactions that facilitate bone marrow colonization is an urgent clinical need and will allow for the targeted design of improved therapeutic strategies.
Experience & Education
Postdoctoral Fellow, New York University Medical Centre
PhD, University of Pennsylvania
Current Affiliations
Early-Career Investigator, OICR
Scientist, Princess Margaret Cancer Centre, University Health Network
Assistant Professor, University of Toronto
Select Publications
See Dr. Tikhonova's recent publications on PubMed.
Research Areas
Disease Areas
Awards
American Society of Hematology Fellow to Faculty Award
Regeneron Prize for Creative Innovation Finalist
New York University Medical Center Postdoc Traveling Award
New York University Medical Center Nominee for the Blavatnik Regional Awards
New York University Medical Center Research Day Traveling Award
New York University Medical Center Molecular Oncology and Tumor Immunology Training Grant
Alex's Lemonade Stand Foundation Young Investigator Grant
Keystone Symposia Scholarship Hematopoiesis
Leukemia and Lymphoma Society Special Fellow
Opportunities to Collaborate
To collaborate with Dr. Tikhonova, please contact her directly.
Visit OICR's Collaborative Research Resources directory for more opportunities to collaborate with OICR researchers.
Looking Ahead
Receive the latest news, event invites, funding opportunities and more from the Ontario Institute for Cancer Research.