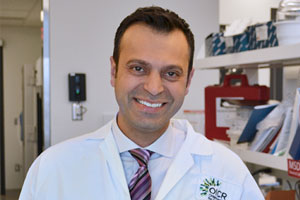 Contact
Dr. Faiyaz Notta
Co-Lead, PanCuRx
Co-Lead, PanCuRx
Dr. Faiyaz Notta is a Scientist at the Princess Margaret Cancer Centre who co-leads OICR's Translational Research Initiative focused on pancreatic cancer (PanCuRx). He employs genomic, cell biology and single-cell approaches to decipher new molecular targets that are needed to treat the deadly disease. Notta has made important contributions to our understanding of the evolution of pancreatic cancer and the disease's subtypes.
Experience & Education
PhD, University of Toronto
Select Publications
Notta F, Chan-Seng-Yue M, Lemire M, …, Gallinger S. A renewed model of pancreatic cancer evolution based on genomic rearrangement patterns. Nature. 2016;538(7625):378-382.
Notta F, Doulatov S, Laurenti E, …, Dick JE. Isolation of single human hematopoietic stem cells capable of long-term multilineage engraftment. Science. 2011;333(6039):218-21.
Milyavsky M, Gan OI, Trottier M, …, Notta F, …, Dick JE. A distinctive DNA damage response in human hematopoietic stem cells reveals an apoptosis-independent role for p53 in self-renewal. Cell Stem Cell. 2010;7(2):186-97.
See Dr. Notta's recent publications on PubMed.
Opportunities to Collaborate
To collaborate with Dr. Notta, please contact him directly.
Visit OICR's Collaborative Research Resources directory for more opportunities to collaborate with OICR researchers.
Looking Ahead
Receive the latest news, event invites, funding opportunities and more from the Ontario Institute for Cancer Research.