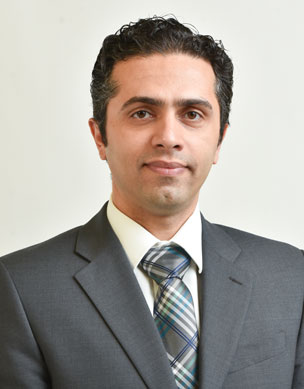 Contact
Dr. Saman Maleki
Early Career Investigator
Early Career Investigator
My laboratory is interested in microbiome-based therapeutic strategies that would sensitize hard-to-treat cancers to immunotherapy.
We use preclinical mouse models to test bacterial-based therapies in combination with immunotherapies for the treatment of different tumors. We also collect stool samples from patients and conduct observational studies involving avatar mouse models through human-to-mouse fecal transplants that would allow us to better understand the role of the gut microbiome in cancer treatment response and treatment-related toxicities. We also conduct interventional microbiome-based clinical trials (phase I/II) that involve fecal microbiota transplant (FMT) in cancer patients receiving systemic treatment including immunotherapy and chemotherapy.
Experience & Education
Co-Director, Translational Immuno-Oncology Research Group, Centre for Translational Cancer Research, Western University
Ph.D. Dept of Microbiology and Immunology, Western University
M.Sc. Dept of Microbiology, University of Isfahan, Isfahan, Iran
B.Sc. Dept of Microbiology, Arak Azad University, Arak, Iran
Current Affiliations
Assistant Professor, Departments of Oncology, Pathology and Laboratory Medicine, and Medical Biophysics at Western University
Translational Immuno-Oncology Scientist at Lawson Health Research Institute
Early Career Investigator, OICR
Select Publications
El-Hajjar, Mikal, Lara Gerhardt, Megan MY Hong, Mithunah Krishnamoorthy, Rene Figueredo, Xiufen Zheng, James Koropatnick, and Saman Maleki. "Inducing mismatch repair deficiency sensitizes immune-cold neuroblastoma to anti-CTLA4 and generates broad anti-tumor immune memory." Molecular Therapy (2022).
Aghamajidi, Azin, and Saman Maleki. "The Effect of the Gut Microbiota on Systemic and Anti-Tumor Immunity and Response to Systemic Therapy against Cancer." Cancers 14, no. 15 (2022): 3563.
Krishnamoorthy, Mithunah, John G. Lenehan, and Saman Maleki. "Neoadjuvant immunotherapy for high-risk, resectable malignancies: scientific rationale and clinical challenges." JNCI: Journal of the National Cancer Institute 113, no. 7 (2021): 823-832.
Gameiro, Steven F., Farhad Ghasemi, John W. Barrett, James Koropatnick, Anthony C. Nichols, Joe S. Mymryk, and Saman Maleki. "Treatment-naïve HPV+ head and neck cancers display a T-cell-inflamed phenotype distinct from their HPV-counterparts that has implications for immunotherapy." Oncoimmunology 7, no. 10 (2018): e1498439.
Saman Maleki. "High and low mutational burden tumors versus immunologically hot and cold tumors and response to immune checkpoint inhibitors." Journal for immunotherapy of cancer 6, no. 1 (2018): 1-5.
See Dr. Maleki's recent publications on PubMed.
Research Areas
Disease Areas
Awards
OICR Early Career Investigator Award 2022-2028
Department of Oncology Excellence in Academics and Teaching, Western University
SITC Sparkathon Award 2017-2018
Community Impact Award, Canadian Cancer Society, Ontario Division, Celebrating 2014 Impact in Community Prevention, Outreach, Advocacy Award
Opportunities to Collaborate
Microbiome analysis
Immunophenotyping of tumors
Phase I clinical trials in microbiome-based therapies and immunotherapies
Microbiome biobank
Looking Ahead
Receive the latest news, event invites, funding opportunities and more from the Ontario Institute for Cancer Research.