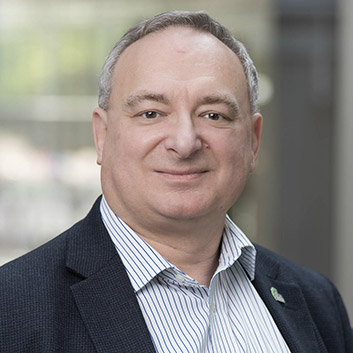 Contact
Dr. Laszlo Radvanyi
President and Scientific Director
Assistant
Lisa Duncan
Manager, Executive Office
lduncan@oicr.on.ca
President and Scientific Director
Dr. Laszlo Radvanyi has extensive cancer research experience in academia as well as in the pharmaceutical industry both in Canada and the U.S. His research focuses on cancer immunotherapy, mainly in cell therapy and cytokine therapy.
The Radvanyi lab is focused on cancer immunology and immunotherapy. The main interest of the lab is how chronic inflammation drives cancer initiation and progression using in vitro and in vivo models. In this context, our work focuses on characterizing how non-coding regions of the genome (representing over 70 per cent of our DNA), including retroelements (LINE, SINE, Alu elements, and HSAT) and human endogenous retroviruses (HERVs), are reactivated in cancer and how they modulate the immune response through innate inflammation especially in early stages of tumour initiation leading to invasive cancer. The lab is also studying how retroelement and endogenous retroviral transcripts are expressed and disseminated systemically in the body through extracellular vesicles (EV) and the role of these in driving systemic chronic inflammation and immune dysfunction in cancer patients and during unhealthy aging. Lastly, another interest of the lab is capitalizing on the tumour-specific expression of retroelement and HERV open reading frames (ORFs) as novel sources of tumour-specific antigens for cancer immunotherapy using mRNA vaccines that can be used to prevent early cancer progression as way of "cancer interception".
Experience & Education
Senior Vice President, Immuno-Oncology, EMD Serono (Merck KGaA)
Chief Scientific Officer (founding), Iovance Biotherapeutics
Professor, Department of Melanoma Medical Oncology, University of Texas (UT) MD Anderson Cancer Center (MDACC)
PhD, Clinical Biochemistry/Immunology, University of Toronto
Current Affiliations
President and Scientific Director, Ontario Institute for Cancer Research
Professor, Department of Immunology, University of Toronto, Toronto, Ontario
World Vaccine Congress, Scientific Advisory Board member
Systems Oncology, Member of the Scientific Advisory Board
Proviva Therapeutics, Head of Scientific Advisory Board
Iovance Biotherapeutics, Consultant
InsTIL Bio, Member of the Scientific Advisory Board
SpeciCare, Member of Scientific Advisory Board
Select Publications
Evdokimova V, Gassmann H, Burdach SEG, Radvanyi L. Current State of Immunotherapy and Mechanisms of Immune Evasion in Ewing Sarcoma and Osteosarcoma. Cancers, 2022, 15: 272-292
Sayaman RW, Saad M, Thorsson V, Hu D, Hendrickx W, Roelands J, Porta-Pardo E, Mokrab Y, Farshidfar F, Kirchhoff T, Sweis RF, Bathe OF, Campbell MJ, Stretch C, Huntsman S, Graff RE, Syed N, Radvanyi L, Shelley S, Wolf D, Marincola FM, Michele Ceccarelli M, Galon J, Ziv E, and Bedognetti D. Germline genetic contribution to the immune landscape of cancer. Immunity, 2020, 54: 367-386
Kozlowski HN, Farkouh ME, Irwin MS, Radvanyi LG, Schimmer AD, Tabori U, Norman D. Rosenblum ND; COVID-19: A Pandemic Experience that Illuminates Potential Reforms to Health Research. EMBO Mol. Med. 2020, 12(11): e13278
Radvanyi, L. Targeting the cancer mutanome of breast cancer. Nat Med, 2018, 24: 703-704
Lan Y, Zhang D, Hance KW, Xu C, Marelli B, Qi J, Yu H, Qin G, Sircar A, Deshpande A, Locke G, Sabzevari H, Radvanyi L, Lo KM. Enhanced pre-clinical anti-tumor activity of M7824, a novel bifunctional fusion protein simultaneously targeting PD-L1 and TGF-β, Sci Transl Med, 2018, Jan 17 10(424)
Li M, Radvanyi LG, Yin B, Li J, Chivukula R, Lin K, Lu Y, Shen J, Chang DZ, Li D, Johanning, GL, Wang-Johanning, F. Down-regulation of human endogenous retrovirus type K (HERV-K) viral env RNA in pancreatic cancer cells decreases cell proliferation and tumor growth. Clin Can Res, 2017, 23: 5892-9911
Sim GC, Martin-Orozco N, Jin L, Yang Y, Wu S, Washington E, Sanders D, Lacey C, Wang Y, Vence L, Hwu P, and Radvanyi L. IL-2 therapy promotes suppressive ICOS+ Treg expansion in melanoma patients. J. Clin. Invest., 2014, 124: 99-110
Wang-Johanning F, Radvanyi L, Rycaj K, Plummer JB, Yan P, Sastry KJ, Piyathilake CJ, Hunt KK, Johanning GL. Human endogenous retrovirus K triggers an antigen-specific immune response in breast cancer patients. Cancer Res., 2008, 68(14): 5869-5877
Awards
1987 University of Toronto Open Graduate Research Fellowship, University of Toronto
1989-1992 Postgraduate Scholarship, Natural Sciences and Engineering Research Council of Canada
1992 Best Poster, Graduate Symposium, University of Toronto, Dept. of Clinical Biochemistry
1992-1995   Ontario Government Graduate Scholarship/OGS
1993 University of Toronto Open Doctoral Fellowship
1996 Becton Dickinson Award for the Best Research Presentation, Canadian Society for Immunology Annual Meeting
1996-1998 Leukemia Research Fund of Canada (LFRF) Postdoctoral Fellowship
1999-2001 Cancer Research Institute (CRI) Postdoctoral (Irvington) Fellowship
2006-2014 Multi-year Faculty Appointment Award, UT MD Anderson Cancer Center
2011 Department of Cancer Medicine 1st Place Faculty Research Award, UT MD Anderson Cancer Center
Opportunities to Collaborate
Patents
US Patent No. 8,946,174, "Tumor antigens BFA4 and BCY1 for Prevention and/or treatmentof cancer"
US Patent No. 8,802,383, "Monoclonal antibodies and uses thereof"
US Patent No. 8,361,706, "Monoclonal antibodies and uses thereof"
US Patent No. 8,207,314, "Tumor antigens for prevention and/or treatment of cancer"
US Patent No. 8,021,664, "Tumor antigens Bfa5 for prevention and/or treatment of cancer"
US Patent No. 7,790,857, "Tumor antigens for prevention and/or treatment of cancer
US Patent No. 9,512,401, "B and T lymphocyte attenuator marker for use in adoptive T-cell therapy"
"Prevention and treatment of disease using angiogenesis and/or tumor antigens"; United States, Docket No. 001-019-PR
"Enhanced Expansion of Tumor-Infiltrating Lymphocytes for Adoptive Cell Therapy"; United States, Docket No. 10110-093PV1, 03/14/2014
"Biomarkers and Targets for Cancer Immunotherapy"; United States, Serial No. 62/075,603, 11/05/2014
"Genetically Modified Cytotoxic Lymphocytes Engineered to Express and Secrete Programmed Death 1 Ligand (PD-L1) Binding Protein"; United States, Serial No. 62/141,200, 03/31/2015
Looking Ahead
Receive the latest news, event invites, funding opportunities and more from the Ontario Institute for Cancer Research.