Drug Discovery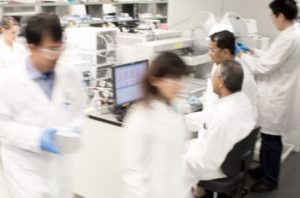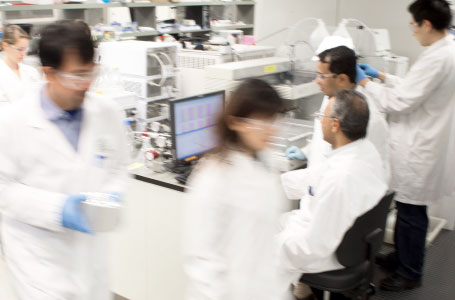 The OICR Drug Discovery Program is one of the largest programs of its kind in Canada. Our mission is to help efficiently translate discoveries made in Ontario's labs into novel oncology therapies. The team is comprised of more than 25 researchers whose collective expertise spans the entire drug discovery process from target identification and validation to clinical candidate selection. The group has extensive drug discovery experience within pharma and biotech environments and combines the disciplines of biology, ADME/PK, analytical, medicinal and computational chemistry expertise along with state-of-the-art infrastructure necessary to successfully conduct drug discovery projects.
Principal Investigator
Dr. Rima Al-awar
Director and Senior Principal Investigator, Drug Discovery
Program expertise and capabilities
OICR's Drug Discovery Team has the infrastructure and expertise to help drive small molecule drug discovery projects. We can aid in target validation, assay design and optimization, hit identification, hit triaging, hit to lead and lead optimization Structure-Activity Relationship (SAR) activities.
Additionally, a range of in vitro and in vivo experiments can be performed at OICR to fully characterize the ADME PK profile of hits, leads and candidate molecules.
Projects
Protein-protein interaction inhibitor projects in collaboration with pharma, biotech and Ontario's research community;

Epigenetic modulators and chemical probes in collaboration with the Structural Genomics Consortium (SGC);

Novel kinase targets  
Opportunities to collaborate
OICR is making its technology infrastructure, expertise and resources available to the Ontario cancer research community through cost-sharing arrangements.
Visit the OICR Collaborative Research Resources section for more information on how the Drug Discovery Program can assist you.
News
To find out more about what's happening in Drug Discovery, visit OICR News.
Contact
Jeff O'Meara
Senior Program Manager, Drug Discovery
Jeff.omeara@oicr.on.ca
Dr. Rima Al-awar
Director and Senior Principal Investigator, Drug Discovery
Rima.AlAwar@oicr.on.ca