Genomics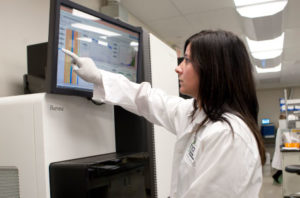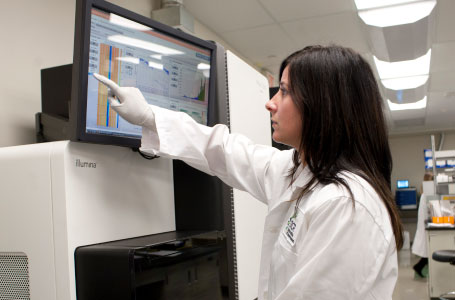 The mission of the Genomics Program is to provide large-scale, next generation sequencing (NGS) cancer genomics capabilities to researchers in Ontario and beyond.
The Program's objectives are to:
Provide state-of-the-art DNA/RNA sample preparation, library construction and sequencing capabilities to support translational research.
Evaluate and adopt/adapt new technologies and methodologies for research and clinical applications.
Where no suitable technologies exist, develop and implement novel approaches and techniques.
Principal Investigator
Dr. Robert Campos
Interim Program Director 
Program expertise and capabilities
Genomics focuses its capabilities in the area of human cancers, with proven success in generating reliable results from low-input and/or low-quality biospecimens, and from formalin-fixed, paraffin-embedded (FFPE) samples. Generation of high-quality data sets is achieved by incorporating multiple stages of quality checks into a systematic, project workflow involving:
Project design consultation;
Analyte extraction;
Library preparation;
Sequencing ;
Analysis (optional).
High throughput processing of samples, accomplished by the use of leading-edge automation and robotics combined with a suite of Illumina sequencers, leads to the production of highly reproducible results across thousands of samples. In conjunction with the OICR Genome Sequence Informatics team, Genomics is able to provide collaborators with analyzed data ready to inform follow-on experiments.
Projects
 In the last five years Genomics has contributed to a variety of human cancer projects including, but not limited to, the following:
   Pancreatic Adenocarcinoma (PDAC):
PanCuRx: Molecular classification and variant/pathway analyses, combined with well-annotated clinical data to identify prognostic and/or predictive markers, and facilitate the identification of drug targets for molecular therapy.
   Prostate cancer:
Canadian Prostate Cancer Genome Network (CPC-GENE): Develop biomarkers to stratify intermediate risk prostate cancer patients at high risk of recurrence versus those who can safely be placed under active surveillance protocols.
   Breast cancer:
Establish a diagnostic sequencing approach that provides biomarkers to develop personalized treatment of patients with early invasive breast cancer.
   Esophageal adenocarcinoma:
Discovery of key biomarkers that can be used to identify progression from Barrett's esophagus to invasive esophageal cancer
   Leukemia:
Highly Active Anti-Leukemia Stem Cell Therapy (HALT): International collaboration to develop novel drugs that preferentially target leukemia stem cells in lymphoid and myeloid malignancies and to identify new therapeutic targets.
European Prospective Investigation into Cancer and Nutrition Study (EPIC): Analyze genetic risk in preleukemic mutation (pLM) carriers who have developed acute myeloid leukemia using one of the largest cohort studies globally.
   Colorectal cancer:
Genetics and Epidemiology of Colorectal Cancer Consortium (GECCO): Identify colorectal cancer-associated genetic variants as part of a large collaborative effort of researchers from North America, Australia and Europe.
Opportunities to collaborate
The Genomics Program is always eager to collaborate with researchers interested in:
Customized library preparation;
Working with challenging or precious samples;
Moving their genomics workflows to labs with automated platforms;
Any projects of mutual interest.
Visit the OICR Collaborative Research Resources section for more information on how the Genomics Program can assist you.
News
To find out more about what's happening in Genomics, visit OICR News.
Contact
Dr. Paul Krzyzanowski
Director
Paul.krzyzanowski@oicr.on.ca