Dr. Lincoln Stein
Head, Adaptive Oncology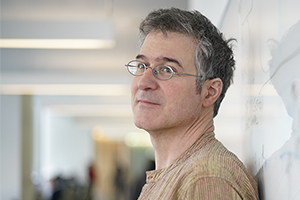 Dr. Lincoln Stein focuses on supporting biomedical research both in Ontario and around the world by making large and complex biological datasets findable, accessible and usable.
Prior to joining OICR in 2006, Dr. Stein played an integral role in many large-scale data initiatives at Cold Spring Harbor Laboratory and at the Massachusetts Institute of Technology (MIT) Genome Center. He led the development of the first physical clone map of the human genome, and ran the data coordinating centre and the data portal for the SNP Consortium and the HapMap Consortium. Dr. Stein has also led the creation and development of Wormbase, a community model organism database for C. elegans, and Reactome, which is now the largest open community database of biological reactions and pathways.
At OICR, Dr. Stein has led several international cancer data sharing and research initiatives, including the creation and development of the data coordination centre for the International Cancer Genome Consortium and other related projects. He continues to collaborate with national and international partners to create and promote data sharing standards, protocols and implementations.
Current affiliations
Head, Adaptive Oncology, OICR
Chair of the International Cancer Genome Consortium Executive Committee, International Scientific Steering Committee and Data Coordination and Management Committee
Member of the Pan Cancer Analysis of Whole Genomes (PCAWG) Steering Committee
Member of the ICGCmed Scientific Planning Committee Data Coordination and Management Committee
Professor, Department of Molecular Genomics, University of Toronto
Select publications
See Dr. Stein's recent publications on PubMed or on Google Scholar.
Tools
Awards
Dr. Stein was named one of the World's Most Influential Scientific Minds by Thompson Reuters in 2014 and a Fellow of the International Society of Computational Biology (ISCB) in 2016. He was recently awarded the Canadian Cancer Research Alliance's Outstanding Achievements in Cancer Research Award (2019).
Previous experience and education
Interim Scientific Director, OICR
Program Director, Informatics and Bio-computing, OICR
Professor, Cold Spring Harbor, New York
Associate Professor, Cold Spring Harbor, New York
Director Information Systems, CuraGen Corporation
Instructor, Harvard Medical School, Deptartment of Pathology, Brigham and Women's Hospital
Director, Informatics Core, MIT Genome Center, Whitehead Institute for Biomedical Research, MIT
Residency, Anatomic Pathology, Brigham and Women's Hospital
MD, Harvard Medical School
PhD, Cell Biology, Harvard University
Related links
Contact
Dr. Lincoln Stein
lincoln.stein@oicr.on.ca