Dr. Lincoln Stein
Head, Adaptive Oncology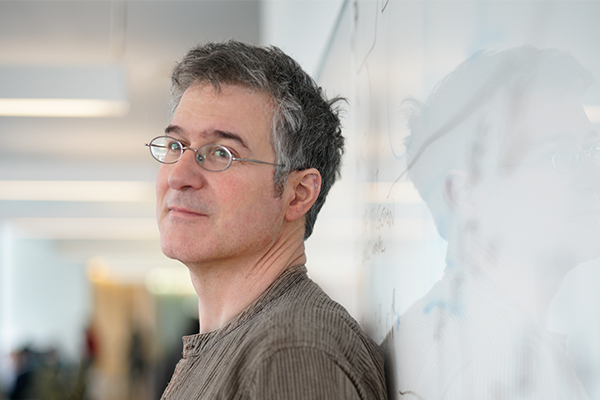 Dr. Lincoln Stein focuses on using network and pathway-based analysis to identify common mechanisms in multiple cancer types and to devise prognostic and predictive signatures to aid in patient management. In addition, his group works on problems relating to the genome structure and function of the nematode Caenorhabditis elegans, a model organism that has yielded many insights into cancer.
Current affiliations
Head, Adaptive Oncology, OICR;
Chair of the International Cancer Genome Consortium Executive Committee, International Scientific Steering Committee and Data Coordination and Management Committee;
Member of the Pan Cancer Analysis of Whole Genomes (PCAWG) Steering Committee;
Member of the ICGCmed Scientific Planning Committee Data Coordination and Management Committee;
Professor, Department of Molecular Genomics, University of Toronto;
Professor, Cold Spring Harbor, New York.
Select publications
Shlush LI, Zandi S, Mitchell A, Chen WC, Brandwein JM, Gupta V, Kennedy JA, Schimmer AD, Schuh AC, Yee KW, McLeod JL, Doedens M, Medeiros JJ, Marke R, Kim HJ, Lee K, McPherson JD, Hudson TJ; HALT Pan-Leukemia Gene Panel Consortium, Brown AM, Yousif F, Trinh QM, Stein LD, Minden MD, Wang JC, Dick JE.
Identification of pre-leukaemic haematopoietic stem cells in acute leukaemia.
Nature. 2014;506(7488):328-33.
Gonzalez-Perez A, Mustonen V, Reva B, Ritchie GR, Creixell P, Karchin R, Vazquez M, Fink JL, Kassahn KS, Pearson JV, Bader GD, Boutros PC, Muthuswamy L, Ouellette BF, Reimand J, Linding R, Shibata T, Valencia A, Butler A, Dronov S, Flicek P, Shannon NB, Carter H, Ding L, Sander C, Stuart JM, Stein LD, Lopez-Bigas N; International Cancer Genome Consortium Mutation Pathways and Consequences Subgroup of the Bioinformatics Analyses Working Group.
Computational approaches to identify functional genetic variants in cancer genomes.
Nat Methods. 2013;10(8):723-9.
Trinh QM, Jen FY, Zhou Z, Chu KM, Perry MD, Kephart ET, Contrino S, Ruzanov P, Stein LD.
Cloud-based uniform ChIP-Seq processing tools for modENCODE and ENCODE.
BMC Genomics. 2013;14:494.
Biankin AV, Waddell N, Kassahn KS, Gingras MC, Muthuswamy LB, Johns AL, Miller DK, Wilson PJ, Patch AM, Wu J, Chang DK, Cowley MJ, Gardiner BB, Song S, Harliwong I, Idrisoglu S, Nourse C, Nourbakhsh E, Manning S, Wani S, Gongora M, Pajic M, Scarlett CJ, Gill AJ, Pinho AV, Rooman I, Anderson M, Holmes O, Leonard C, Taylor D, Wood S, Xu Q, Nones K, Fink JL, Christ A, Bruxner T, Cloonan N, Kolle G, Newell F, Pinese M, Mead RS, Humphris JL, Kaplan W, Jones MD, Colvin EK, Nagrial AM, Humphrey ES, Chou A, Chin VT, Chantrill LA, Mawson A, Samra JS, Kench JG, Lovell JA, Daly RJ, Merrett ND, Toon C, Epari K, Nguyen NQ, Barbour A, Zeps N; Australian Pancreatic Cancer Genome Initiative, Kakkar N, Zhao F, Wu YQ, WangM, Muzny DM, Fisher WE, Brunicardi FC, Hodges SE, Reid JG, Drummond J, Chang K, Han Y, Lewis LR, Dinh H, Buhay CJ, Beck T, Timms L, Sam M, Begley K, Brown A, PaiD, Panchal A, Buchner N, De Borja R, Denroche RE, Yung CK, Serra S, Onetto N, Mukhopadhyay D, Tsao MS, Shaw PA, Petersen GM, Gallinger S, Hruban RH, Maitra A, Iacobuzio-Donahue CA, Schulick RD, Wolfgang CL, Morgan RA, Lawlor RT, Capelli P, Corbo V, Scardoni M, Tortora G, Tempero MA, Mann KM, Jenkins NA, Perez-Mancera PA, Adams DJ, Largaespada DA, Wessels LF, Rust AG, Stein LD, Tuveson DA, Copeland NG, Musgrove EA, Scarpa A, Eshleman JR, Hudson TJ, Sutherland RL, Wheeler DA, Pearson JV, McPherson JD, Gibbs RA, Grimmond SM.
Pancreatic cancer genomes reveal aberrations in axon guidance pathway genes.
Nature. 2012;491(7424):399-405.
Gerstein MB, Lu ZJ, Van Nostrand EL, Cheng C, Arshinoff BI, Liu T, Yip KY, Robilotto R, Rechtsteiner A, Ikegami K, Alves P, Chateigner A, Perry M, Morris M, Auerbach RK, Feng X, Leng J, Vielle A, Niu W, Rhrissorrakrai K, Agarwal A, Alexander RP, Barber G, Brdlik CM, Brennan J, Brouillet JJ, Carr A, Cheung MS, Clawson H, Contrino S, Dannenberg LO, Dernburg AF, Desai A, Dick L, Dose AC, Du J, Egelhofer T, Ercan S, Euskirchen G, Ewing B, Feingold EA, Gassmann R, Good PJ, Green P, Gullier F, Gutwein M, Guyer MS, Habegger L, Han T, Henikoff JG, Henz SR, Hinrichs A, Holster H, Hyman T, Iniguez AL, Janette J, Jensen M, Kato M, Kent WJ, Kephart E, Khivansara V, Khurana E, Kim JK, Kolasinska-Zwierz P, Lai EC, Latorre I, Leahey A, Lewis S, Lloyd P, Lochovsky L, Lowdon RF, Lubling Y, Lyne R, MacCoss M, Mackowiak SD, Mangone M, McKay S, Mecenas D, Merrihew G, Miller DM 3rd, Muroyama A, Murray JI, Ooi SL, Pham H, Phippen T, Preston EA, Rajewsky N, Ratsch G, Rosenbaum H, Rozowsky J, Rutherford K, Ruzanov P, Sarov M, Sasidharan R, Sboner A, Scheid P, Segal E, Shin H, Shou C, Slack FJ, Slightam C, Smith R, Spencer WC, Stinson EO, Taing S, Takasaki T, Vafeados D, Voronina K, Wang G, Washington NL, Whittle CM, Wu B, Yan KK, Zeller G, Zha Z, Zhong M, Zhou X, Ahringer J, Strome S, Gunsalus KC, Micklem G, Liu XS, Reinke V, Kim SK, Hillier LW, Henikoff S, Piano F, Snyder M, Stein L, Lieb JD, Waterston RH.
Integrative analysis of the Caenorhabditis elegans genome by the modENCODE project.
Science. 2010;330(6012), 1775-1787.
See Dr. Stein's recent publications on PubMed or on Google Scholar.
Tools
Awards
Dr. Stein was named one of the World's Most Influential Scientific Minds by Thompson Reuters in 2014 and a Fellow of the International Society of Computational Biology (ISCB) in 2016.
Previous experience and education
Interim Scientific Director, OICR;
Program Director, Informatics and Bio-computing, OICR;
Associate Professor, Cold Spring Harbor, New York;
Director Information Systems, CuraGen Corporation;
Instructor, Harvard Medical School, Dept. of Pathology, Brigham & Women's Hospital;
Director, Informatics Core, MIT Genome Center, Whitehead Institute for Biomedical Research, MIT;
MD, Harvard Medical School;
Residency, Anatomic Pathology, Brigham & Women's Hospital;
PhD, Cell Biology, Harvard University.
Related links
Contact
Dr. Lincoln Stein
lincoln.stein@oicr.on.ca