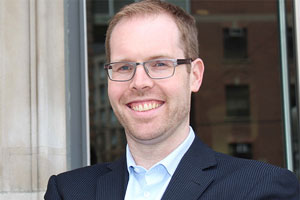 Contact
Dr. Trevor Pugh
Senior Investigator & Director, Genomics
Senior Investigator & Director, Genomics
Dr. Trevor Pugh is a Senior Investigator and the Director of Genomics at OICR. He leads the OICR Genomics program, which brings together the Princess Margaret Genomics Centre, OICR's Genome Research Platform, Translational Genomics Laboratory and Genome Sequence Informatics teams under an integrated initiative to support basic, translational and clinical research.
Dr. Pugh is a cancer genomics researcher and a board-certified molecular geneticist. His research program is focused on understanding the clinical implications of clonal shifts in cancer and non-cancerous cell populations in tumours during treatment, most recently using cell-free DNA sequencing, single cell RNA-seq analysis, and immune repertoire profiling. He and his collaborators develop software tools and data analysis systems required to enable collaborative, clinically-oriented genome research.
Experience & Education
Clinical Molecular Genetics Fellow (ACMG), Harvard Medical School
Postdoctoral Fellow, Dana-Farber Cancer Institute and the Broad Institute of Harvard and MIT
PhD, University of British Columbia
B.Sc., University of British Columbia
Current Affiliations
Senior Investigator & Director, Genomics, OICR
Canada Research Chair in Translational Genomics
Associate Professor, Department of Medical Biophysics, University of Toronto
Senior Scientist, Princess Margaret Cancer Centre
Select Publications
Personalized circulating tumor DNA analysis as a predictive biomarker in solid tumor patients treated with pembrolizumab. Bratman SV*, Yang SYC*,  …, Siu LL+, Pugh TJ+. Nature Cancer. 2020 Sep;1:873–881.
Gradient of developmental and injury-response transcriptional states define functional vulnerabilities underpinning glioblastoma heterogeneityRichards LM, Whitley O, … Dirks PB+, Bader GD+, Pugh TJ+. Nature Cancer, 2021 Feb;2:157–173
CReSCENT: CanceR Single Cell ExpressioN Toolkit. Mohanraj S*, Díaz-Mejía JJ*, …, Brudno M+, Ramani AK+, Pugh TJ+. Nucleic Acids Res. 2020 Jul 2;48(W1):W372-W379.
CapTCR-seq: A DNA hybrid capture method for assessment of T-cell receptor clonality. Mulder DT, …, Ohashi PS, Pugh TJ. Blood Adv. 2018 Dec 11;2(23):3506-3514.
Circulating tumour DNA sequence analysis as an alternative to bone marrow aspirates for clinical management of multiple myeloma. Kis O, …, Trudel S+, Pugh TJ+.Nat Commun. 2017 May 11;8:15086.
The genetic landscape of high-risk neuroblastoma Pugh TJ*, Morozova O*, …, Marra MA, Meyerson M, Maris JM. Nat Genet. 2013 Mar;45(3):279-84.
Medulloblastoma exome sequencing uncovers subtype-specific somatic mutations Pugh TJ, …, Meyerson M, Pomeroy SL, Cho YJ. Nature. 2012 Aug 2;488(7409):106-10.
See Dr. Pugh's recent publications on PubMed or on Google Scholar.
Research Areas
Disease Areas
Awards
Canadian Institutes of Health Research, Canada Research Chair in Translational Genomics, 2018
StandUp2Cancer, Philip A. Sharp Award for Innovation in Collaboration, 2018
Terry Fox Research Institute, New Investigator Award, 2017
Opportunities to Collaborate
Tools
Liquid Biopsy Sequencing: Ultra-deep targeted sequencing to detect somatic mutations in cell-free DNA
CapTCRSeq: A DNA hybrid capture method for assessment of T-cell receptor clonality (Similar bait set developed for the immunoglobulin / B-cell receptor loci)
Patents
Hybrid-capture sequencing for determining immune cell clonality, WO2017177308A1, 2017
Looking Ahead
Receive the latest news, event invites, funding opportunities and more from the Ontario Institute for Cancer Research.