Dr. Trevor Pugh
Senior Investigator & Director, Genomics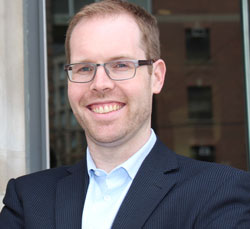 Dr. Trevor Pugh directs the Princess Margaret-OICR Translational Genomics Laboratory (PM-OICR). He is a cancer genomics researcher and a board-certified molecular geneticist.
Dr. Pugh's work focuses on enabling the use of genome technologies to guide care for cancer patients. His research program is focused on understanding the clinical implications of clonal shifts in cancer and non-cancerous cell populations in tumours during treatment, most recently using cell-free DNA sequencing, single cell RNA-seq analysis, and immune repertoire profiling. He and his lab develops software tools and data analysis systems required to enable the aforementioned goals
Current affiliations
Canada Research Chair in Translational Genomics
Associate Professor, Department of Medical Biophysics, University of Toronto
Senior Scientist, Princess Margaret Cancer Centre
Research interests
Cancer Genomics
Clinical Molecular Genetics
Bioinformatics
Software development.
Top publications
See Dr. Pugh's recent publications on PubMed or on Google Scholar.
Awards
Canadian Institutes of Health Research, Canada Research Chair in Translational Genomics, 2018
StandUp2Cancer, Philip A. Sharp Award for Innovation in Collaboration, 2018
Terry Fox Research Institute, New Investigator Award, 2017
Tools
Liquid Biopsy Sequencing: Ultra-deep targeted sequencing to detect somatic mutations in cell-free DNA
CapTCRSeq: A DNA hybrid capture method for assessment of T-cell receptor clonality (Similar bait set developed for the immunoglobulin / B-cell receptor loci)
Patents
Hybrid-capture sequencing for determining immune cell clonality, WO2017177308A1, 2017
Previous experience
Clinical Molecular Genetics Fellow (ACMG), Harvard Medical School
Postdoctoral Fellow, Dana-Farber Cancer Institute and the Broad Institute of Harvard and MIT
PhD, University of British Columbia
B.Sc., University of British Columbia
Opportunities to collaborate
For opportunities to collaborate with Dr. Pugh, please contact the PM-OICR Translational Genomics Laboratory.
Visit OICR's Collaborative Research Resources directory for more opportunities to collaborate with OICR researchers.
Related links
University Health Network Researcher Page – Dr. Trevor Pugh
University of Toronto, Department of Medical Biophysics Faculty Page – Dr. Trevor Pugh
PM-OICR Translational Genomics Laboratory
Contact
Dr. Trevor Pugh
trevor.pugh@utoronto.ca