Imaging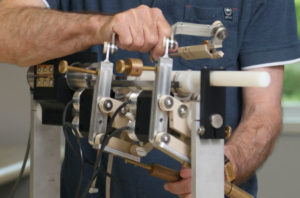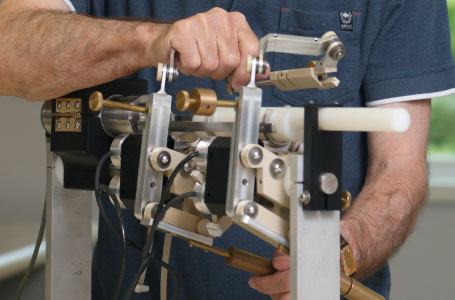 The mission of the Imaging Program is to accelerate translation of research findings and developments of new imaging techniques and probes of cancer into clinical practice.
The program is comprised of four areas of expertise:
Probe Development focuses on the discovery, development, distribution, and commercialization of molecular imaging probes and targeted radiotherapeutics. This work is carried out at the Centre for Probe Development and Commercialization (CPDC) in Hamilton.
Medical Imaging Instrumentation and Software (MIIS) develops image-processing tools and robotic instrumentation that can be used in a wide range of applications, from analysis of medical images to image-guided minimally invasive interventional techniques, including robotic techniques that are used to biopsy and treat This work is carried out at the Robarts Research Institute and the Centre for Imaging Technology Commercialization (CIMTEC).
Pathology Validation is focused on the validation of imaging technologies and cancer biomarkers against ground truth provided by histopathology and molecular profiling. This work is carried out at the Sunnybrook Research Institute and CIMTEC.
Quantitative Imaging for Personalized Cancer Medicine (QIPCM) provides end-to-end medical imaging solutions to help clinical trials achieve improved consistency and reliability in study data. QIPCM has established the required infrastructure and support services for international multi-centre clinical trials. QIPCM is based out of University Health Network.
 Principal Investigators
Program expertise and capabilities
The Probe Development team has the expertise to overcome the gap between probe research and clinical use. The CPDC provides the cancer research community with the collaborative support they need to access existing and novel probes. Lay expertise includes radiopharmaceutical research and development, process development and manufacturing, quality assurance, regulatory affairs and business development.
The MIIS team has the knowledge to deal with the full engineering spectrum from analysis of images to special tools used to diagnose early tumours and guide therapies. Its expertise includes interventional techniques with improved efficacy and ablative approaches such as surgical techniques as well as radiation therapies. The team can assist with the integration of advanced medical imaging systems with medical and surgical robotics, radiotherapy, guidance technology and imaging probes used to identify the tumour and its margins.
Assistance with 3D multi-modality image viewing, delineation of organ and tumour margins (segmentation), fusion of multi-modality images (registration), texture analysis of images (radiomics), 3D ultrasound biopsy guidance instrumentation, robotic systems for image-guided therapy, and image-guidance software.
Access to equipment at Robarts Research Institute, which includes four MR scanners, 20 ultrasound machines and access to a research CT scanner.
Pathology Validation assists with development of image analysis tools, and algorithms for histopathology, immunohistochemistry and biomarker multiplexing. In addition it offers access to imaging pathology validation services and resources.
QIPCM services for clinical trials includes a centralized data repository for multi-centre clinical trials, data anonymization, scanner quality assurance, imaging protocol development, image analysis and remote data access through a Windows "virtual machine".
CIMTEC offers researchers and small to medium-sized companies technology development services and business and commercialization expertise.
Projects
Centre for Probe Development and Commercialization (CPDC)
Medical Imaging Instrumentation and Software (MIIS)
Pathology Validation
Quantitative Imaging for Personalized Cancer Medicine (QIPCM)
Opportunities to collaborate
Visit the OICR Collaborative Research Resources section for more information on how the Imaging Program can assist you.
Related links
News
To find out more about what's happening in Imaging, visit OICR News.
Contact
Carol Richardson
carol.oicr.imaging@gmail.com
Program Manager
CIMTEC
Yulia Yerofeyeva
yulia.yerofeyeva@sri.utoronto.ca
Program Manager
Sunnybrook Research Institute