Our achievements
OCTANE is using next-generation sequencing to help patients now and drive future cancer research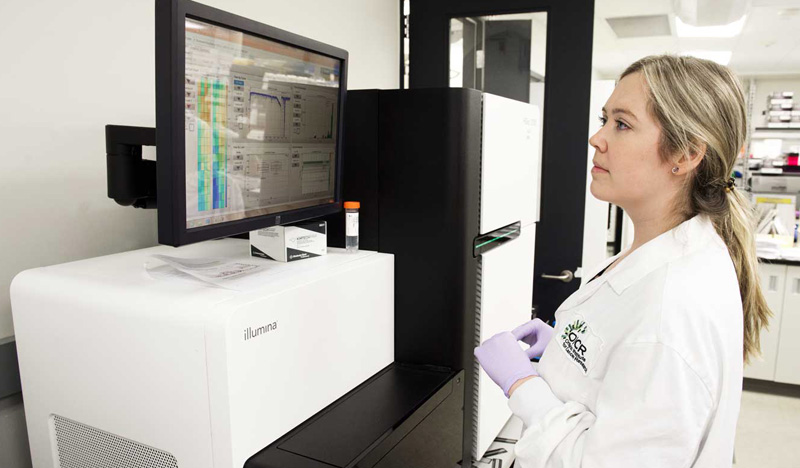 (September 2017) Behind every cancer is a unique set of biological factors that have caused once healthy cells to become diseased. Identifying which genes are mutated is central to understanding what is driving a patient's cancer and choosing the best course of treatment. The clinical use of next generation genome sequencing technology, which was once very expensive and almost exclusively used in research settings, is now being expanded in Ontario through the Ontario-wide Cancer Targeted Nucleic Acid Evaluation (OCTANE) study. This joint OICR-Princess Margaret Cancer Centre initiative can help today's eligible patients find the best treatment based on the specifics of their cancer, while helping to usher in the use of more targeted therapies for patients in the coming years.
OCTANE is now up and running at five Ontario cancer centres: Juravinski Cancer Centre (Hamilton), Kingston Health Sciences Centre, London Health Sciences Centre, Princess Margaret Cancer Centre (Toronto) and The Ottawa Hospital Cancer Centre. Participating patients' genomic and clinical data will be stored in a province-wide database that can help them find approved treatments, or to enrol in experimental targeted therapies that are being evaluated through clinical trials. Sharing this data will also allow scientists to identify new avenues of research and contributing to the development of future treatments and studies for patients.
"Gathering and storing patients' clinical and genomic data in a centralized manner and sharing it with Ontario's cancer researchers will allow us to accelerate the development of targeted therapies," says Dr. Philippe Bedard, co-leader of OCTANE. "Through this study we will help patients access the most effective treatments and help develop the next generation of cancer diagnostics and therapies."
For more about this story visit OICR News: https://news.oicr.on.ca/2017/09/innovative-study-brings-next-generation-genomic-sequencing-to-more-ontario-cancer-patients/
---
Novel "barcodes" reveal how glioblastoma develops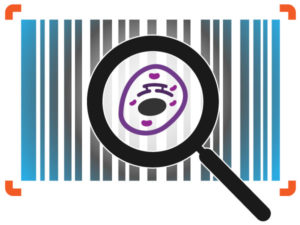 (August 2017) Glioblastomas are complex and often incurable brain cancers that affect about 1,500 adults and 150 children in Canada each year. They are notorious for their ability to evade treatment and, despite many years of research, prognosis for patients remains at a little over a year.
Scientists in Canada and the U.K., funded in part by OICR, have found a new approach to understanding how glioblastomas develop. And in doing so, they have identified new ways of possibly treating it.
The study's Co-Principal Investigator, Dr. Peter Dirks, Staff Neurosurgeon and Senior Scientist at SickKids and co-leader of OICR's Brain Cancer Translational Research Initiative explains that the research is unique because they were able to track the development and behaviour of individual brain cancer cells and their progeny (clones) using a novel barcode-like system. The "barcodes" allow scientists to mark each cell and track it over time, showing how the cell contributes to the tumour's growth.
Specifically, they found that glioblastoma is made up of many different clones, most of which they were surprised to find followed a very strict and predictable hierarchy of growth. They also defined a much smaller subtype that is more aggressive and less predictable. Most importantly for glioblastoma patients, they then identified two existing drugs that can slow the development of glioblastomas – one that targets the predictable subtype and one that targets the less predictable subtype.
"The approach we took is like the difference between looking at the final score in a sports match when it is over, to watching the game unfold in real time," says Dirks.
The team will now test more types of glioblastoma tumours and better characterize the two subtypes to target them with more treatments.
---
OICR success stories: Dr. Paul Boutros
Researchers find new signatures for prostate cancer
(January 2017) Prostate cancer can be highly curable if caught early and treated. But about 30 per cent of men who appear to have highly treatable disease relapse after initial treatment and develop aggressive disease. There is currently no way to predict which patients fall into this category, and which don't.
A new DNA "fingerprint" developed by researchers in the CPC-GENE project, led by Drs. Paul Boutros and Robert Bristow, will help to identify those patients that are more likely to develop aggressive disease after treatment and those that will not. This tool will allow doctors to better target treatment to patients, prescribing more aggressive treatment to patients with aggressive disease, while sparing patients with non-aggressive disease from further treatment and the associated side effects. With one in eight Canadian men diagnosed with prostate cancer in their lifetime, this tool has the ability to improve the life of thousands of patients in Canada each year.
The CPC-GENE team, which is the largest prostate cancer genomics project in the world, used state-of-the-art DNA sequencing techniques to better understand the biology of prostate cancer. They searched for mutations in a group of 200 prostate cancer patients and from that created a dataset of 60 trillion data points. From that they were able to identify 41 common mutational events that were seen repeatedly in multiple patients.
The next steps are to validate the fingerprint over the next two to three years. If successful it could lead to a tool that could be used in hospitals and doctors' offices shortly thereafter.
For more about this story visit OICR News: news.oicr.on.ca/2017/01/pan-canadian-research-team-uncovers-signature-to-reduce-overtreatment-of-prostate-cancer/
---
Ontario researchers redefine how pancreatic cancer develops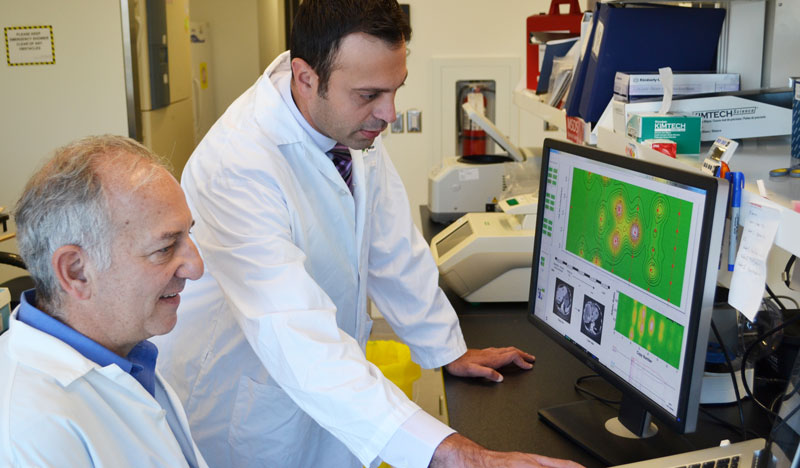 (October 2016) Despite years of research, pancreatic cancer remains one of the most aggressive and deadly types of cancer. More than 5,000 Canadians are newly diagnosed with the disease each year, making clear that new tools are needed to better diagnose it and stop its rapid growth.
Researchers at the Ontario Institute for Cancer Research and The Princess Margaret Cancer Centre, led by Drs. Faiyaz Notta and Steven Gallinger, have recently made a major breakthrough in understanding the underlying biology of pancreatic cancer, suggesting perhaps the limited success in targeting pancreatic cancer has been due to an incorrect understanding of how it develops and spreads. By using cutting-edge techniques to analyze the whole genome of 100 pancreatic tumours, they showed that instead of growing slowly over time undetected, as previously thought, the DNA alterations that are thought to cause the disease occur all at once.
The results mean researchers can now make better sense of why the disease is so aggressive and why it advances so rapidly. This also means that researchers will be able to develop new solutions for patients living with the disease. Says Dr. Gallinger, "These findings provide us with a new understanding of how pancreatic cancer develops and a path forward to identify better strategies to diagnose and target this terrible disease."
For more about this story visit OICR News: news.oicr.on.ca/2016/10/challenging-current-view-pancreatic-cancer/
---
Our contributions
Recruiting and retaining top research talent

OICR created an Investigator Awards Program to recruit and retain outstanding researchers and clinician scientists in Ontario. Twenty-eight scientists are currently supported with investigator awards.
---
Personalizing prostate cancer diagnosis and treatment

OICR co-founded and co-leads the Canadian Prostate Cancer Genome Network (CPC-GENE), the largest prostate cancer genomics project in the world. The project has sequenced tumour and healthy tissue from over 350 patients and is now publishing results of their findings, with the goal of better personalizing prostate cancer diagnosis and treatment.
---
Finding the genetic origins of cancer

OICR launched and coordinates the International Cancer Genome Consortium, a global collaboration focused on identifying the genomic changes present in 50 tumour types or subtypes. OICR has taken on the study of two types of cancer: pancreatic and prostate. 
---
Facilitating the sharing of research

OICR is a co-founder and co-host of the steering committee of the Global Alliance for Genomics and Health, which has brought together organizations from around the world to enable the responsible, voluntary and secure sharing of genomic and clinical data. The ultimate goal is to help unlock the great potential of genomic data for human health.
---
Building companies, creating jobs

OICR created the Fight Against Cancer Innovation Trust (FACIT), which works with OICR and other strategic partners to bring cancer discoveries to market. OICR/FACIT have together supported the development of 23 companies and created 310 highly skilled jobs. FACIT attracted $307 million to Ontario.
---
Bringing cutting-edge research to patients

OICR/FACIT supported the development of a new cancer vaccine that is now in a Phase I/II clinical trial and could one day be used as a cancer therapy.
---