Our recent research achievements
Informing individualized pancreatic cancer treatment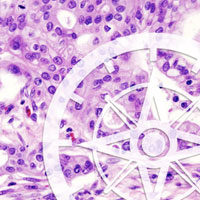 OICR's COMPASS is the first large trial to bring personalized medicine to pancreatic cancer patients. In its pilot stage at the Princess Margaret Cancer Centre, COMPASS has completed rapid, comprehensive genomic analysis of biopsies taken at diagnosis to guide the selection of second line therapy. COMPASS has helped identify individualized treatment options for 30 per cent of patients based on the unique molecular characteristics of their tumours. Now, COMPASS is expanding to cancer centres across Ontario and Canada in partnership with the Terry Fox Research Institute and the Pancreatic Cancer Canada Foundation.
Finding leukemia years before it develops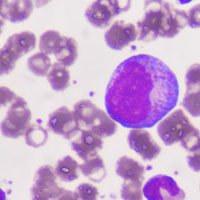 OICR-supported researchers have found traces of acute myeloid leukemia in patients up to a decade before the disease becomes aggressive. The collaborative research team mined through hundreds of healthy patient samples looking for early indicators of the disease. They were able to accurately identify rare mutations and distinguish these mutations from healthy aging, which has never been done before. This research has uncovered new opportunities to detect leukemia earlier and treat the disease more effectively.
Channeling the immune system to work against hard-to-treat cancers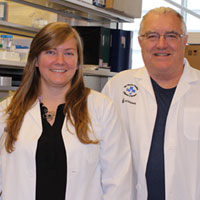 OICR-funded researchers have created a method to sensitize triple-negative breast cancers to common immunotherapy techniques. They've designed a virus that can preferentially infect cancer cells and, in combination with immune checkpoint inhibitors, achieve a cure rate of up to 90 per cent in mouse models. This group of Ottawa researchers, supported by OICR's Immuno-oncology Translational Research Initiative (ACTION), are now pursuing these mechanisms in other models of the disease.
Finding new ways to prevent virus-induced stomach cancers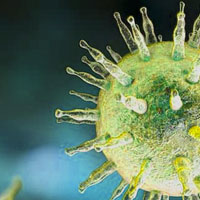 OICR researchers, in collaboration with Dr. Lori Frappier at the University of Toronto, have identified a key protein expressed by the Epstein-Barr Virus (EBV) that is a likely driver behind virus-induced stomach cancers. To do so, they assembled new EBV genomes and performed the most extensive sequence analysis of EBV isolates to date. They then performed genomic and proteomic analyses on these samples and identified a DNA damage response pathway that promotes the transformation of normal cells into cancerous cells. With their new knowledge, the Frappier lab is continuing to pursue their research on EBV and how to prevent it from inducing stomach cancer in the first place.
Blocking lung cancer before it spreads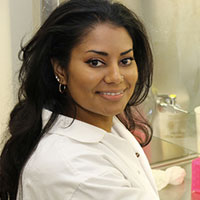 OICR researchers at McMaster University discovered two key genes driving the spread of lung cancer to the brain while developing an animal model to study Brain Metastases Initiating Cells (BMICs) in vivo. Their findings, which were published in Acta Neuropathologica, could be used to identify patients who are most at risk of developing brain metastasis and develop drugs to block the spread of lung cancer.
Discovering breakthrough viral immunotherapies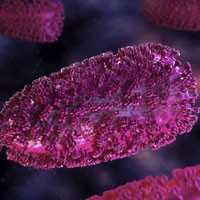 OICR researchers have discovered and developed new immunotherapy approaches for various cancers using the Maraba virus. Their technology has been commercialized by Turnstone Biologics, who has recently partnered with AbbVie to further develop cancer-fighting virus-based therapies. Turnstone has secured US$41 million in its latest financing round and has been recognized as one of the top 15 biotech start-ups in the world. Currently, their therapies are being tested in clinical trials.
Tracking how cancer progresses in real time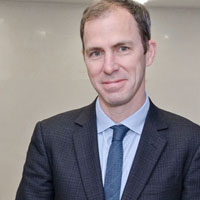 OICR researchers based at the Hospital for Sick Children have developed a new method using a barcode-like system to see how brain cancer cells evade treatment and spread. Using these methods, the research team found that only a few of the barcoded cells gave rise to long-term tumour growth. Their research, published in Nature, showed that the behavior of glioblastoma is very structured, despite genetic differences between cancer cells. They unveiled vulnerabilities in glioblastoma that can be better targeted to treat this lethal type of brain cancer.